A Perfect Experience in Japan
Japanese Ryokan is honored by the whole world with its "Omotenashi", the pinnacle of Japanese hospitality culture welcoming travelers since Edo period.
Make a perfect experience in Nagomitsuki with the full measure of our "omotenashi" hospitality, while enjoying mineral rich hot springs and traditional costumes called "Yukata".
We also serve you Japanese style cuisine using fresh and abundant local ingredients,
and all of these are enacted with perfect balance between Ryokan interior such as tatami floors and modern high-end interiors.
Onsen culture
With privacy and peace at the core of the Ryokan concept, every one of 12 rooms has private open-air hot springs bath where you can be relaxed and healed. Nagomitsuki also features communal natural hot springs maintained at 38℃ to 41℃, a comfortable temperature.
Onsen history
Dating back centuries Onsen culture and the ritual of bathing in hot springs play
an essential part of Japanese society heralding from Japanese the mythical
connection of water, rebirth and cleansing. Japanese legend relates how Izanagi,
the male god who created the world with his wife, Izananami, bathed to purify
himself creating gods and goddesses were formed from his tears, wet body, and
clothes.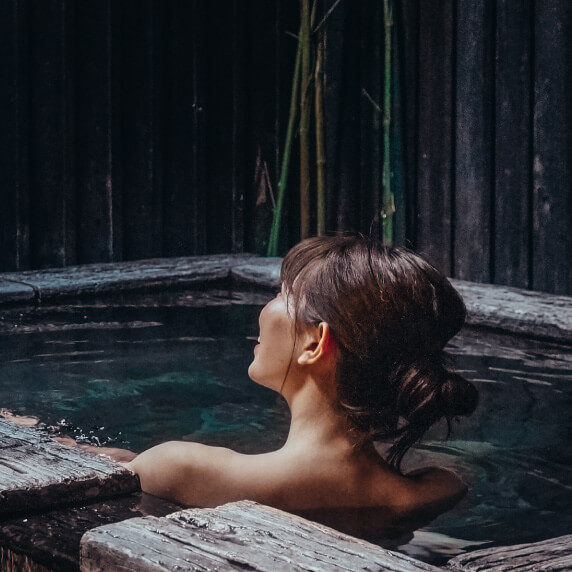 Onsen ettiquette
Now seen as traditional wellness and health therapy enjoyed all over Japan the Onsen is
still steeped in etiquette and polite culture, bathers typically must shower and wash
before entering the Onsen and remove all clothes except for the small vanity towel
provided. Historically many onsens forbade tattoos due to links to Japanese Yakuza
gangs; however, Nagomitusuki is welcomed to all.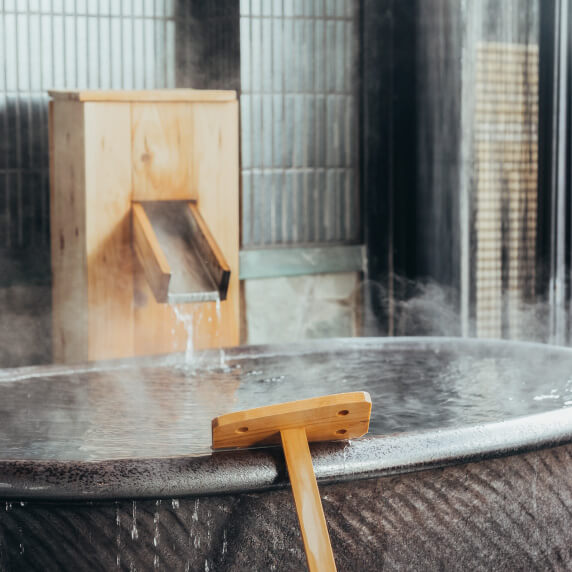 Closer to nature
The connection between ryokan and nature is apparent in all elements like its design, food and comfort. Nagomitsuki is surrounded by natural Japanese garden, which would bring you closer to nature and the calm of body and soul during your stay.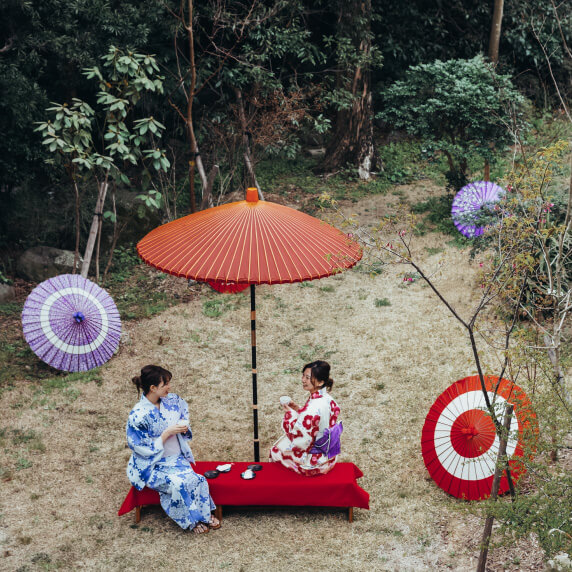 Spa and wellness treatments
You can have aromatherapy massage which relieves your body fatigue. Available in 15:00~21:00.